In a recent interview Waste Management Review speaks with Guada Lado, Western Sydney Regional Organisation of Councils' Regional Waste Coordinator, ahead of her Waste Strategy Summit 2022 presentation.
With an estimated 67 million tonnes of waste generated by Australians every year, public and private sector waste strategies are critical to environmental and economic health.
As such, the imperative to modernise infrastructure, technology and operations while bringing industry and community together has never been greater.
Enter Waste Strategy Summit 2021, which will bring together key stakeholders in the waste sector, from local councils and government authorities to private enterprise and academics, to examine what collaboration, investment and technology is necessary to ensure an efficient, sustainable future for public and private sector waste management.
The event will explore real life case studies with presenters from governments and organisations leading the way in waste strategy innovation, cost-savings and sustainability.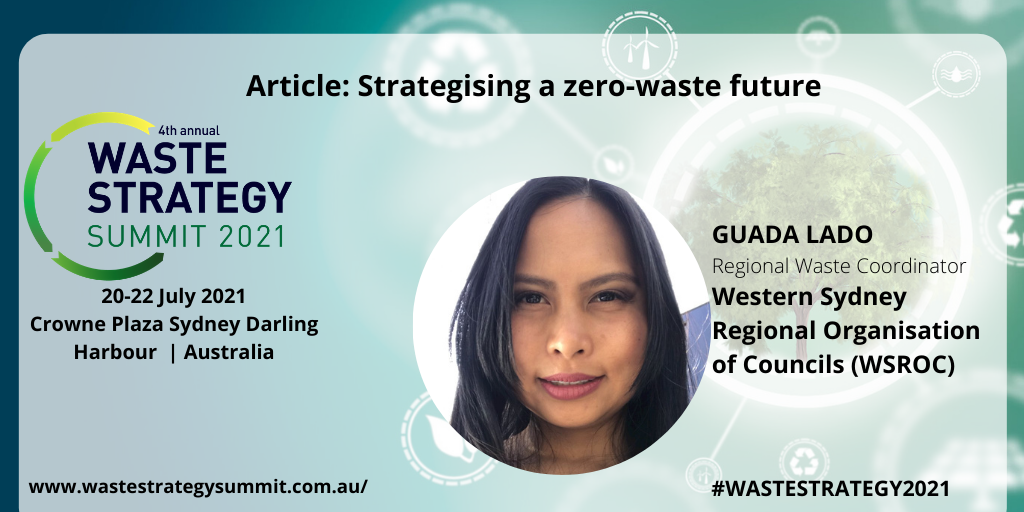 Guada Lado, Western Sydney Regional Organisation of Councils' Regional Waste Coordinator, is one such presenter, with her session, Tried and Tested: Strategies from a 5-year Regional Litter Plan that Really Work, set to explore best practice litter reduction initiatives.
"We have been on a journey from unveiling the $14 million litter problem in our region to delivering best practice litter-reduction initiatives across Western Sydney," she says.
"Littering behaviours can be quite complex and even sensitive, but utilising all four pillars – engagement, infrastructure, enforcement, monitoring and evaluation – proved successful for driving behavioural change in a variety of settings.
"The benefit of multi-agency projects, central delivery and local and targeted community engagement were also consistently proven."
Lado explains that when she was a recent graduate starting out in the industry at Cleanaway, the career advice given to her was that waste, like taxes, was unavoidable, but meant there would always be work.
"Since then, this notion of waste has become the challenge that so many of us here are addicted to trying to solve," she says.
Over the past six years, Lado has worked with nine councils to deliver the Western Sydney Regional Waste Strategy, working on issues that are common challenges to councils across the region.
A key challenge, she says, had been the changing urban landscape of the region and increasing population growth, which highlight systemic problems due to the lack of recognition of waste as an essential service.
"I will be sharing the most effective strategies and practical learnings for those interested in driving community engagement and litter prevention in public places at a local, regional, or wider scale," Lado says.
She adds that the key takeaway from her presentation will be that partnerships and collaboration with other agencies, understanding the community and positive engagement were key to the success of WSROC's programs.
In addition to Lado's presentation, Waste Strategy Summit 2021 attendees will hear from an extensive range of speakers including Soko Made, San Francisco Zero Waste Senior Coordinator, Julie Morgan, Transport for NSW Environment and Sustainability Executive Director, and Ryan Collins, Planet Ark Head of Circular Economy programs.
Attendees will also gain insights into the landfill crisis facing Australia and hear how others are reducing upstream waste through sensible material management. The power of big data in transforming waste management and recycling processes will also be explored, alongside a deep dive into product stewardship and the importance of a zero-waste mindset.
"The Waste Strategy Summit brings forward-thinking leaders and innovators from diverse backgrounds to inspire us and to collaborate with – vital for solving our fascinating waste challenge," Lado says.
Register for the Waste Strategy Summit 2022 here  or to view the agenda go here.